Thank you so much for taking your time with me today. I appreciate it more than you know and I could express, especially with this event we are working so very hard on.  This is by far the largest fund raiser event I have ever done or hosted in my life and I'm SO excited about it! It's all about helping YOU feel confident and beautiful ALL while helping to enrich lives of kids all over through music and  help families raise awareness and communication for dangers that aren't always strangers.
My friend Jonathan Tureau and I have combined forces to bring the ultimate Music and Makeup Fundraising event to you.  This event starts right now and goes until Midnight on August 20th 2016 – we EVEN have a live video surprise for you guys on August 13, 2016 at 8:00pm eastern. (Join our Facebook Event now simply message Jonathan or Myself to get a VIP invite.)
Throughout the next few days Jonathan and I will be posting videos in the Event Page to encourage you, inspire you and give you tips & tutorials on how you can feel brave, bold and confident inside and out yourself – but also change the lives of our future generations through positive outlets like music and by defending their innocence!
When you shop this online virtual party we have two amazing organizations that benefit children and an incredible bonus is you get high quality, professional, skin care and makeup products that are like none-other out there! You can just start browsing products now HERE but….
I'd like to explain a little more…first….meet Jonathan!
When You Pamper Yourself or Purchase a Gift for Someone You Love You Automatically:
GIVE: 15% of the TOTAL Sales from this party goes directly to Music Lessons in Houston.  This will launch this program off the ground and into schools, community centers, and churches starting in the Houston area and expanding all through out Texas.  There are also immediate plans to expand to other states, major cities and rural areas as well.  Your purchase will help music and instrument lessons be accessible to children in an easy and fun way once again to enrich their lives! (Start the Pampering Now!)
BONUS GIVE: $5.00 of EVERY Kudos Purchase gets an additional donation by Megan to the Defend Innocence program through the Younique Foundation.  Defend Innocence is designed to shine the light on a sensitive subject of childhood sexual abuse. We want to help the healing of those who have been survivors and to raise the awareness through proper education to stop the 1 in 4 statistics.  The Kudos includes 3 exclusive colors, a beautiful Defend Innocence Bracelet in a gorgeous box including information materials. This truly makes a wonderful gift to yourself or someone you love.


Round Ups Give: ANY Purchase you make for any beauty or makeup products has a round up option at check out that the "loose change" can go directly to the Younique Foundation whose focus is to Uplift, Empower and Validate women all over the world.
What's this Kudos and Defend Innocence Megan is talking about?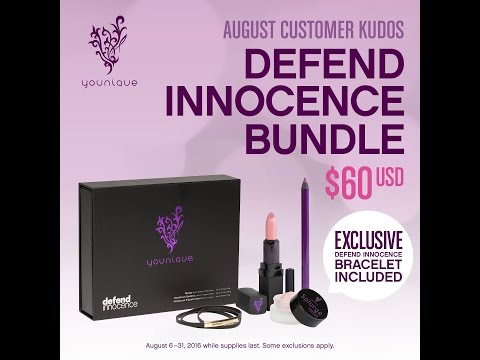 It's SO Much More!
This party is truly about so much more than makeup – but as a professional licensed Pennsylvania Cosmetologist – I LOVE this stuff!  I have never worked with a Liquid Foundation so light, silky, soft and covering as Younique.  I've never experienced lashes so long and natural as with 3D Fiber Lashes by Younique. I've always wish for and never had lip stains that truly work and don't crack, peel or dry my lips like I have with Stiff Upper Lip by Younique!  I'm just obsessively grateful for this company and this time in my life here! What a season and a journey and I am BLESSED to be working with Jonathan to bring this all to you.
None of "sales" from this party are pocketed by Jonathan or myself – we just truly felt like this was one INCREDIBLE fun way to GIVE BACK and give back BIG to what we are both so very passionate about.
Thank you Jonathan for allowing me this honor to work with you and your Organization!
Join the Party and Facebook VIPs:
We do have a Private VIP Party Event at Facebook – Request to Join Here