Hey Everyone,
Happy TUESDAY!  Here is another QUICK video using the PaperLayerz by Megan Elizabeth on Cutmates cardstock!  LOTS more coming and more info coming, and MORE Special Offers from CutMates too!  I am just so excited and SO Overwhelmed by the AWESOME Response from everyone!  And I will tell you, there are 3 MAJOR Retailers chomping at the BIT to get this in YOUR Local Craft stores, so exciting for you all to be able to get this whenever and wherever you are!
We had initially offered a special 20% discount on CutMates Solid Cardstock and that sold out SO Quickly, that we ARE going to extend the offer once we receive more paper!  We will send out an email to everyone on our Backstage Subscriber list and the paper will be first come first serve. Sorry we just won't have enough for EVERYONE, but the paper will be available in many retail locations soon and I will be sure to give you all that info as I get it!  Just check your email often for the details to come in!! 🙂
As for the Paper Layerz Designer Paper, that will be first PREMIERING in the Club Ruby "Summer Days" July Kit at ClubRubyDesigners.com in July.  Kits are available at a discount for those with an Advantage Membership, or you can buy kits directly through www.Craft-e-Corner.com.
The Above Rubies Studio store will also have a limited number of single sheet paper available for sale as well in several color schemes of the 6 starter patterns!
The 6 Premier Patterns are:
Happy Dots (this one is premier in Megan's Signature Color Scheme you'll LOVE it!)
Grid and Bear It
All Stressed Out
Rock Star
Fresh and Friendly
Sprinkles of Fun
MORE DETAILS COMING LATER…..SO STAY TUNED!
For now, here's another video and you can make this card with any paper you have at home as well!  So Cute! 🙂 Just have fun watching it!  I can't wait to share lots of other projects and other ideas that I've had a lot of mojo on recently, there just aren't enough hours in my day!!! 😉 😉  I'm SURE some of you can relate!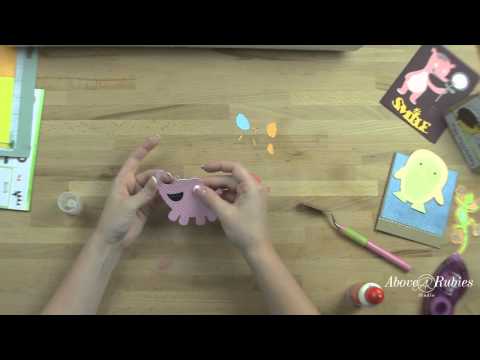 PS – Ok ok, do you want in on the secret of how to win SAMPLES of the Paper Layerz Paper BEFORE anyone else can get their hands on it?  Go ahead and visit the Club Ruby Blog for details of HOW you can be the FIRST to WIN Samples of Paper Layerz – Winner will be selected June 15th.