Welcome to Today's Cricut Expression 2 Video!
I'm so excited about this video because I am showing a new product from this past CHA that is SO incredibly amazing it is going to change the way you craft!  And talk about BLING – WOW!  Nothing so custom and personal ever with Rhinestones, and its incredible!
What you'll see in this video:
How to cut Rhinestone Adhesive sheets in the Cricut
How to use the Deep Cut Cricut Blade and Housing
How to Set Paper Size with the Expression 2 (E2)
How to use Fit to Page for Multiple Shapes
How to use Fit to Page with Any Size Paper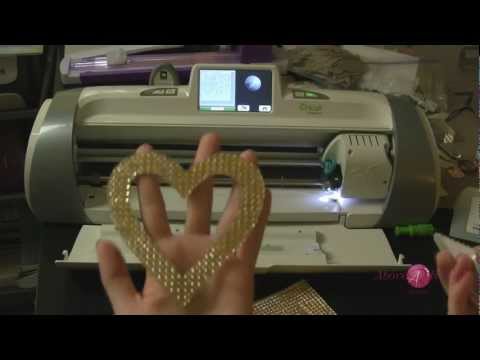 The Buckle Boutique is where you can get your hands on this FABULOUS Material and GUESS WHAT!?  Cathie has agreed to a SPECIAL COUPON OFFER just for AboveRubiesStudio followers get 15% off your order when youuse code:ARS15
*Please note: there are many sheets of rhinestone adhesive sheets available, 11 designs of the sheets are designed to cut in the Cricut that are thinner.  Please note some of the other designs are thicker and may not cut as well in the Cricut machine, they are marked in the store, but please read all carefully to ensure you get the product you really want. Whether you cut in the die cutting machines or not, you'll LOVE this stuff!
I KNOW you're going to go CRAZY over all of the many colors and patterns of this rhinestone adhesive backed sheets!  I seriously want to fill my craft room with it and Rhinestone decor EVERYTHING!  I really want to make some Cell phone bling, a keychain, a rhinestone pattern on my one black hat….the possibilities are endless…unfortunately, funds are not, the common crafter dilemma! LOL
Enjoy the Moments my friends!