OK WOW! This was a SURPRISE!  I was reading through Comments and came across this comment from Nuchi Draiman! I've re-posted it below and it's a little long, but I wanted to make sure you got to see all the details (here is a link to her original comment). My comments and today's video are after the comment.
---
 GIVEAWAY and online Thanks and Get Well Party for Megan Elizabeth!

Guys—let's do something special for Megan to say thanks and cheer her up while she's going through this ordeal.

Thanks to Megan, I recently became a Close To My Heart Independent Consultant. I had watched Megan's video showing the Cricut Art Philosophy cartridge, which you can only get from CTMH, and seeing Megan use it convinced me I had to have it. It's the best Cricut cartridge ever! In March I became a consultant, planning on just using the discount for myself (which they allow you to do) and to get the Art Philosophy cartridge (LOVE IT!), but here's my chance to let all of you benefit and give Megan a "thank you gift" as well!

I am setting up a Megan Elizabeth online Gathering, and arranging it so that Megan gets all the Hostess gifts! The more people buy, the bigger the hostess gifts Megan will receive!

It's a great time for this, because in June there's a special STAMPAGANZA sale going on. With any purchase of 2 stamp sets, you get a 3rd one (the lowest priced set you order) FREE! I'm told they haven't had a sale like this for at least a couple of years!!

P.S. Don't miss the "Life is Tweet" Stamp of the Month—only $5 with any purchase of $50 or more!


Now for the GIVEAWAY…

I will be giving away over $50 worth of stamping and scrapbooking materials! You could be the lucky winner!
So here's what you do:

1) Go to my website, which is http://lovetocraft.ctmh.com
2) Click on the JOIN button next to where it says "Thanks and Get Well to Megan Party!"
3) Look through all of the wonderful Close to My Heart products, and order anything you want.
4) You will receive 1 entry to the Giveaway for making a purchase—no matter how large or small.

Bonus entries:
1 bonus entry for every $50 you spend–1 bonus entry for spending $50, 2 for $100, etc. If you see you're about to spend over $150, email me at craftsluvr@aol.com and arrange to have your own online party (see next paragraph).

5 bonus entries if you have your own qualifying online gathering (sales over $150, at least 2 "guests" besides the hostess). You will get great hostess gifts of your choice as well!

Arrange for your friend to host an online party and you will both benefit! Your friend will get 5 bonus entries for hosting the party and you will get 2 extra bonus entries too! 1 bonus entry for posting about this Giveaway on Facebook, Twitter, or your own blog. (Post on all 3 and get 3 entries!) You must make a purchase on my website to get these bonus entries.

Be sure to email me at craftsluvr@aol.com and let me know how many entries you have earned and what you did to earn them to make sure I don't miss anything.

Don't wait! This party will be over in a few days!! This Giveaway is from me and not from Close To My Heart or Megan Elizabeth. You can only participate on my website at http://lovetocraft.ctmh.com

Good luck winning the Giveaway and a very heartfelt Get Well and Thank you to Megan!! Our thoughts and prayers are with you!!
---
WOW WOW WOW and THANK YOU THANK YOU THANK YOU!  You guys are amazing and SO incredibly AWESOME! You all touch my heart each and everyday and you inspire me to do and be so much more!  THANK YOU!!
I do have a little UPDATE video and a Quick little explanation of  how to make scrabble tile jewelry, sparkle lightz jewelry and sparkle lightz crafty stuff!  Its also just a check in that is VERY informal and just talking to you as my friends!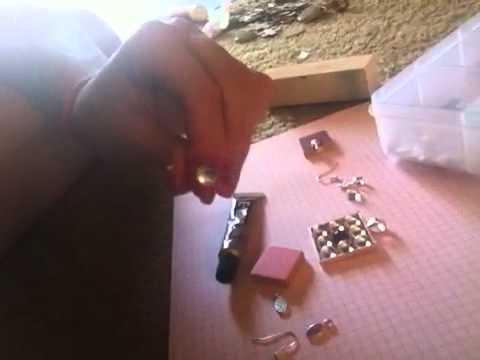 Again, you all are so incredible! I have so many things that we are working on and coming out with – including a NEW PRODUCT that I can NOT WAIT to announce!  I'm working with some other incredible people and we have some REALLY truly amazing new Classes and Workshops that you won't want to miss and we are about to release our final days of kits!  I also have that HUGE event coming up in September for you all to participate in!  We only have 500 slots that you will want to fill but we will have over 12,000+ participating in this event you can't miss it!  MORE details to come VERY VERY SOON!