Hey All!  Happy Tuesday!
Hope you all had a GREAT weekend!  I know I did!  I was able to get lots done including a few things that are going to be published in print here soon!  Very Excited!
Today's Tuesday Tutorial is all about layering up some flowers!  I found the PERFECT thing that makes flower layering SUPER simple!  K&Company has this WONDERFUL Flower die-cut Stack designed by Carolyn Gavin…makes it SO easy!  Great for all your scrapbook layouts and your cards!
I'm also showing a few things that I picked up on the CHA show floor, such as the Scrap-Dots from Helmar and Crafter's Companion new Glue Runner.  Pretty awesome stuff!
I know lots of you are still asking, where do I buy Viva Decor from?  Well Craft-e-Corner.com has it in stock RIGHT now so its pretty awesome if you're looking to pick it up still!
Alright, so down to the Tutorial….Really basic stamping using an exclusive www.ClubRubyDesigners.com stamp set from our January kit.  More exclusive stamps will be going out to members in the near future within kits and other things, so if you're interested in getting on the mailing list for whats happening and even just having fun being inspired by our designers and community, go to www.ClubRubyDesigners.com TODAY and get your FREE profile!  Yes FREE Profile!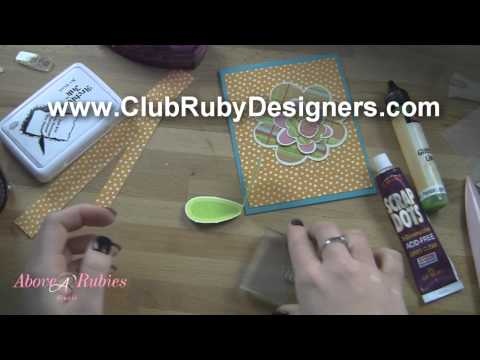 Enjoy!