I am ecstatic at how these necklaces for the kids Teachers turned out!!!!
I used the ImpressArt metal stamping tools and all new Soft Strike Alkeme bases to create amazing custom name jewelry!  I stamped each metal ring with each of the kids names from the class and placed the teachers name on the larger middle base. Attached each of the rings using small split rings to a beautiful Beadalon Chain from Craft-e-Corner.com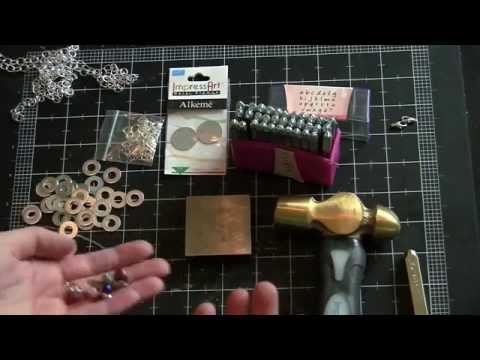 I can't believe the school year is over and we are kicking off summer! The kid's Pre'K and Kindergarten graduations were so amazing and fun and both their teachers just loved their memory necklaces!  And I was pretty excited to also receive several "orders" to make these necklaces for some other mom's at school for grandmas and themselves!  I'm custom making these with colors and up to 8 names for several ladies – and I also think I'm going to work on some keychain ideas too! There is something that has become SO therapeutic for me with metal stamping – it is definitely something I want to develop skills in further because it is currently one of my most favorite creative outlets.  Next to MASH UP Journaling of course! 🙂  I will still always love card making and scrapbooking – but this has just taken on a new love for me more and more!
Who would you like a necklace like this for???
I want to remind everyone there is a FEW DAYS left to enter our Sparkle and Shine daily giveaway event!  31 Days of Giveaways and Prizes and the grand prize winner won't be selected until the 31st so there is PLENTY of time to still enter HERE!
a Rafflecopter giveaway