Hey Everyone!
I received several submissions for "Feature My Tuesday Tutorial" and I wanted to share two of them with your right now! I also have a few "Picture Tutorials" of things I have been working on to post here!  I do love doing videos, but, right now, this is just what I need to do. Thanks for understanding!  I still create even when I'm down, just filming, editing and making it all I want it to be on the blog end isn't always easy.  So let's take a look at two Videos!
First one is from Cathie R. who made this adorable Turtle Shaker Card and the second one is from Lisa R. and I think this is a very clever idea for those $1.00 party pack games!  Take a look!   I know you all will find inspiration from both of these videos.  Which one will you create first?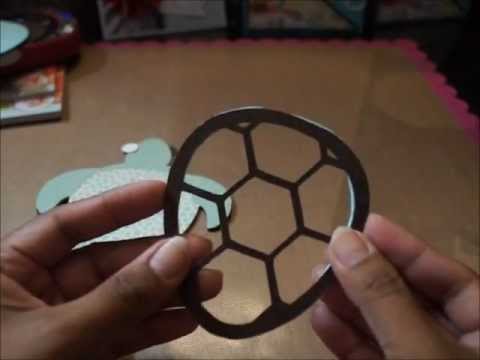 Now for a Few of Megan's Recent Creations:
I've been preparing for CHA and also making a few hings for around my house – so I thought I would share a few pics and some ideas with you!
First I'll post the pics of the Sparkle Light Studded Shoes I made for the show – YES I will wear them, but when I'm not, I'll display them in the booth (#1039 if you happen to be coming)
I had picked up these shoes last year at Express for only $4.99 and thought, yup they could use some bling!  Sparkled heel shoes are all over Pinterest right now so I couldn't WAIT to give it a try with the smooth shine of sparkle lightz.
I used my I-Bond cordless Glue Gun  Yes I LOVE it and adore that it is cordless because who wants that cord in the way? It is my quick grab go to. It doesn't always seem to get as hot as fast as a plug in (prob because of battery life/strength) but it is so nice and convenient. Perfect for crops because you don't always have a power source. It's just great….
So I used my I-Bond (lol) and Glitter Glue Sticks to adhere the Sparkle Lightz right to the shoe.  I usually use my Mini Adhesive Squares for Sparkly lightz, but I needed something that would bond better to the faux suede of the shoe, so I felt like hot glue was a def way to go.  There are some "glue strings" which to me is a huge downfall of a hot glue gun, but, it still turned out GREAT! Honestly, what do you think?
I did add an extra little "light" on the front of the shoe too. Pattern isn't perfect, it's def a Megan DIY just do it project, but I LOVE them!
Finally here is another project…well just thing…I've been working on – It took only a few minutes and I took photos of every step. I could have turned it into something much more DIY, but I really put it up just as personal reminders and encouragement, and that's what I'm hoping this "tutorial" will do for you. Help you let go of a big project perfection, and give you freedom to do things in your home for short term purposes that are still cute and meaningful!
I used to have a piece of twine at my old house that went from when end of my kitchen window to the other and i would put up notes and Bible verses, Goals and quotes to look at as I watched kids play outside or do dishes etc..
Well my window at this house isn't conducive to that exactly, but I do have a nice amount of space under my kitchen cabinets that look into my living room, so here is what I did!
Select the scrapbook paper that speaks to you  – something that isn't too busy and trim out cards 3″ x 4″ (or size that works for you) with your paper Trimmer. I use my Fiskars Rotary trimmer and I can stack 3-4 sheets at a time in that.

Ink Edges using the ME Ink Edgerz like the Rainy Days In pad, it's a super soft gray that is just fabulous for any color scheme with just the right shadow and silvery softness.

Write out your Bible Verses, Quotes, Goals, etc using Bic Super Fine Mark-It Markers (this way when you are done with them on your wall, you can put them in your scrapbook layouts and things because they are acid-free markers!

Use the Glue Arts Wall Art Adhesive Cartridge for your Glue Glider Pro.  This adhesive is removable and won't damage your walls but has a good hold to keep your one layer projects in place.  Truly works well (although if the area you hang them gets moist/steamy, like above a stove, they may fall off wall.)