Hey Everyone!  Happy Tuesday Tutorial Day! 🙂
As many of you may have seen and know even from posting here over the weekend I've been playing a LOT with the Martha Stewart Crafters Clay kit and I am IN LOVE!  Really in love! You can do so much and have so much fun WITH this clay!  I am not a clay crafter at all!  This is actually only the second time in my life I've ever touched the stuff (not kidding because even as a kid PlayDough made me throw up and STILL does, my poor kids!..it's a smell thing…ANYWAY!) – SO – This IS the paper Crafters Clay I am not even kidding you.   This feels unlike anything I've ever felt before its super light weight, it mixes sooooo easily and dries in this flexi SUPER light weight foamy feel.  Its not all hard and rubbery and tough like I always felt clay is/was.  *(Maybe not all clay is like that I really don't have a ton of experience) What I DO know is, this is all new to me and is the PERFECT introduction into something that ties perfectly into Paper Crafting.  In this video I'm going to show you TWO ways of making Flower Embellishments from start to finish with clay to USE on your paper craft projects like Cards and Scrapbook pages!
The First Part I'm going to show you how to make a Free formed Rose from Clay.  The exception here is I'm going to flatten and shorted the bottom out so that its essentially a sleek, flattish, 3D rose! It is SO easy too!  You'll see! 😉
The Second Part of this video is a spin on something I LOVE doing with Paper. I'm going to show how to make a Layered Circle Flower.  This was inspired by Lisa Pavalka and what I do all the time with different sizes of circles and colors and patterns of paper!  See what you think!!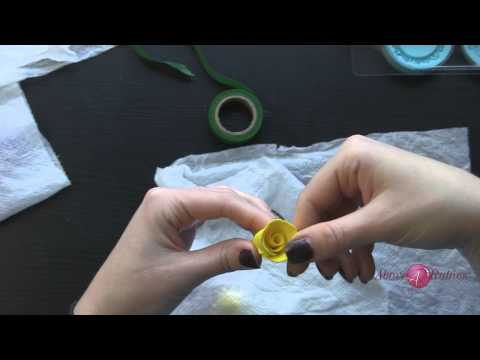 Now that you've seen this…What do you feel you could use the Martha Stewart Crafters Clay For?  Which of the Two Flowers do You Like?  Think You can make one??? (Here's a hint – I KNOW You can!!!) 
If you're interested in picking up the starter kit or refills or even extra molds – it is available at Craft-e-Corner.com – I heard that some Michael's are carrying it but not all have it available – so if you're stuck trying to find it – check out the web! 🙂  I can almost promise you wont be sorry giving it a try!  It's so therapeutic 😉