Happy 4th of July!  I hope you all are enjoying summer relaxing, fireworks, family, friends parades and most importantly (in the USA) Thanks for our Freedom and celebration of what that means to us here! 🙂
There has been lots and lots happening this week I thought I would post the few videos that I recorded from my cell phone this week so you guys can catch up on whats up!  I have a few VERY special sales going on in celebration of Independence Day at AboveRubiesStudio, Craft-e-Corner and Square1Masterpiece.  Thought you all would like to be in the loop on what you can save on!
The other day I had to spend some time at the Craft-e-corner warehouse and I thought I'd give you all a little tour of what's up and happening there and some goodies I kinda want to get my hands on!  If any of you have any of the cartridges I mention in this video – would you please comment and let me know your thoughts?  Thanks!
Also – I showed snippets of two new bundle/kit deals for Stampers and Card Makers – well there is even MORE in these bundles than I showed in the videos – including sheets of Paper Layerz and Pink Metal Nesting Dies!  The bundles are valued over $104 EACH and are on sale for the 4th of July for less than a Fast Food meal with my kids!  Get your hands on those while you can and save!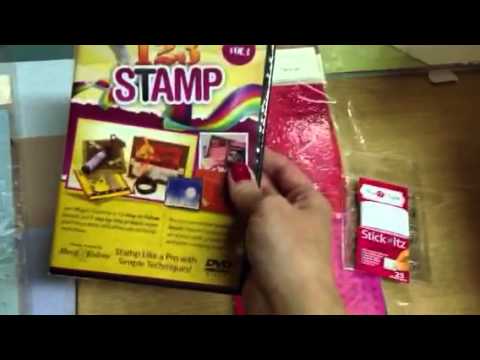 Available now for a "Christmas in July" celebration too – the Christmas Crafts DVD is over 50% off right now so that you can get in the Holiday Spirit and enjoy some great seasonal projects and ideas you can create this summer to get ahead of the game for the holiday season! There are card ideas, scrapbook layouts and easy DIY gifts you can re-create in moments! Pick up that DVD and others on sale now at shop.aboverubiesstudio.com
Square1Masterpiece Safety for Your Home!
Square1Masterpiece and I have been working closely together for a few months now.  I have become a truly believer in this product and while I have always known about the "safety" of Square1Masterpiece Fabric over vinyl, until Doug shared a little more hard facts and research I feel like I am going to shout this from the roof tops – I am going to take a moment to plead with you not only is this product truly amazing for crafting, it is so much safer for your home and around your kids – so please take some time to check this out and read some true facts on PVC and vinyl and WHY Square1 is the best alternative for us crafters!
In addition to those facts I also posted a video having some fun with printing and cutting as well as another new app I'm using called CollageIt! – I made little collages right on my iPhone from Instagram and printed directly to my Canon printer and have some really great stickers of the kids to place in my car, office, refrigerator and much more!  Check that out here!
Also Square1Masterpiece is celebrating the 4th of July as well with color collections at amazing prices and $2.00 off the printable products with a FREE inspirational art Download!!! Get your hands on it today!
Enjoy the Moments and Let Freedom Ring!