Helllooo!!! 🙂
Thanks for stopping by for another Tuesday Tutorial!!! 🙂  Hope you are having a GREAT day and BOY O BOY do I have something REALLY great to share with you! 🙂  I can't wait to show you more because my new "family" members are just awesome and have helped me perfect something I've really struggled with getting right everytime I do it!
Covering Chipboard!  Have you ever wondered if there was a secret formula to really covering chipboard?  Do you ever get totally frustrated trying to trace with an Xacto knife and you still end up with some jagged edges that just drive you crazy?  Do you try to sand off the edges and it still doesn't seem quite right?  I know that I've had those troubles.  I never seem to be able to trace and cut my shapes out perfectly, and now I've met my solution!!! I'm so excited!
In this video I show how I finished off a basic square shape which is pretty easy, but in a video coming up, we are going to show a much more intricate shape as well – so you can REALLY see how great these things work.
Right now, lets dive into a really fun gift project.  You'll see how I used:
7 Gypsies Metal book Handles
7  Gypsies Gator Clips
K&Company Urban Rhapsody Paper
Tim Holtz Word Sticks
Tim Holtz Tokens
Rubons
Viva Decor Pearl Pens
How to Ink Edges of designs
I really hope you enjoy and I can't wait to share more with you later!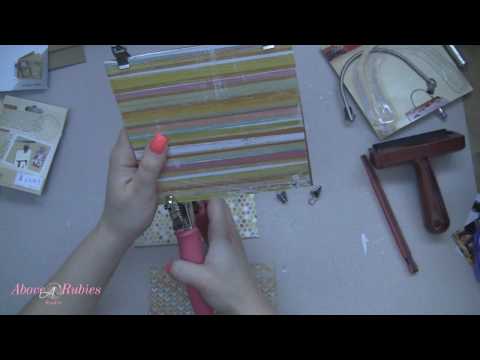 If you are interested in the Big Brother Sanding Stick or the Lil Sister Sanding sticks you can visit:
Don't forget to check out the Facebook "I like this" page for AboveRubiesStudio
and if you haven't yet – pass along word for others to Subscribe to the Feedburner to get regular updates on what happening at Above Rubies!