Hello My Friends!
I hope you all are absolutely FABULOUS this Tuesday!  I have a very short video for you today on how I made this scrapbook page with my Gypsy.  However, my Gypsy battery was dead when I went to film this – so, I'm just showing how to put the pieces together and hopefully spread some scrappin' inspiration with you today!  🙂
I think you may get something out of this video which includes:
Gypsy Wanderings Cartridge (the square frames)
Welded letters to the frames
Hannah Montana Cricut  Cartridge Font
K&Company Urban Rhapsody Chipboard Stickers
Viva Decor Glitter Liners and Pearl Pens
Trimming down Photos for my Scrapbook Layout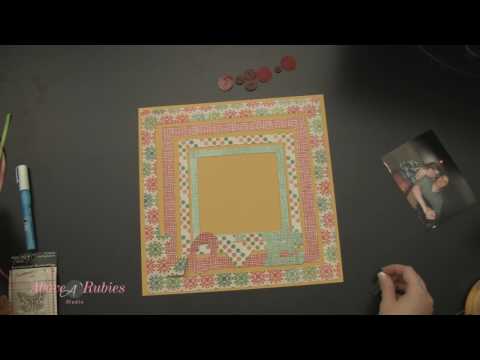 Something else I"m VERY excited to be sharing with you in the next week are several projects that I have made for a SWAP I am participating in.  Its DEFINITELY been a new and challenging experience for me and I can't wait for my partner to receive her box of goodies – once she gets everything, I'll be sure to share the goodies with you all as well – I think you'll laugh at some of the humor behind everything too! 😉  Good Times Good Times!
And – I'm very thrilled to have Brittney working here with me on a more regular basis.  She is very talented in many departments and is pretty much a does it ALL At Above Rubies Studio kinda girl, from shipping, Customer Service, Video Editing, Creative Design and MUCH MORE – our team is growing, but she is someone I depend GREATLY on right now – not only do I want to take time to THANK HER right now! (THANK YOU BRITTNEY!)
I want to tell you all that the two of us our working on the NEXT Release from Above Rubies Studio THIS WEEK!!!
NOT ONLY are we working REALLY REALLY hard on TONS of things that are going to be included in the NEW CLUB RUBY, we are working on a HUGE Release looking to come out THIS SUMMER – so be prepared and stay tuned for THAT!
I have to tell you all, I'm in a rambling kinda mood today, and I want to tell you about all kinds of ideas I have bubbling in my crazy creative head.  I want to tell you all how thankful I am to each one of you for the opportunity to even begin to serve you in this small way of blogging, teaching, inspiring…
You're all a blessing to me!!!
HUGS!