Happy Tuesday My Friends!
Would love to hear more about what you are up to today?  If you want to tell me, I would love to take a look in the comments today to hear!  But, I'm sure if you're reading this, YOU are here because you want to learn a little something about crafting or be inspired with a Scrapbook layout.
Today that is just what I have for you!  I wanted to create a scrapbook layout in under 20 minutes (actually this scrapbook layout took less than 15 minutes to create) for baby Gradyn's bedroom. This particular layout coordinates with the shadow box I made for him a few weeks ago.  I was SO excited that Close To My Heart had this set of Bible verse stamps, especially including this one that has been a favorite of mine since I was a little one, and I pray it over my kids lives everyday!  I thought it was too perfect not to incorporate into this layout!
I did use my Viva Decor Pens again and I've heard quite a bit of chatter that crafters are having a hard time finding these GEMS!  Well, they ARE available at http://Craft-e-Corner.com and also they are coming in the Level 3 Mystery Boxes at Cropped Event – JUST so you know 🙂 … that's pretty good news! 😉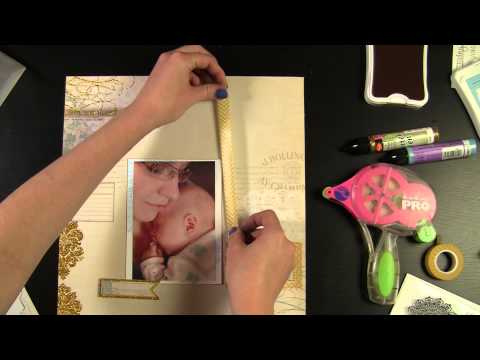 So tell me!  What are you up to today?  Crafting something awesome?  Feeling Happy?  Would you like me to pray for you?  Just let me know in the comments – I'll be thinking about you!
——————————————————————
CROPPED 2.0 
The Mystery Challenge Event with Crafting Goody Boxes is coming August 22-23 – GET YOURS TODAY!
Here is the link to the 2012 Cropped Event so you can see a little what we did, and the fun we had!
https://www.youtube.com/playlist?list=PLTllQdZzZjWEKAi4onosei0mZMqGxmnPG
There is still time to get a box ONLY Level 2 and Level 3 remain at
——————————————–
Megan's Nails
Nails are by Jamberry Nails – NO, I am not a Jamberry Consultant, but I love their nail art decals and it is ALL I use now – in every video since November 2013 – this is what you see me wear – CURRENTLY I'm hosting an online party for Pam T!  She is one awesome lady and I would love to support her Home BasedBusiness in anyway we can!  I also have several other friends we will be showing some love to in upcoming months, but rightnow you can take advantage of this party and the Get one FREE when you pick out 3 deal at http://PammiesJammies.JamberryNails.net (Just join the AboveRubies Party or let Pam know when you place your order!
———————————————
CTMH is about to change out Idea Books for the YEAR – SOOO that means there are really only a few days left to get many of the goodies you see in the current shop!  HOWEVER, it also means a whole new year is coming with monthly workshops from ME, an ALL new Cricut Cartridge (fun fun) and lots more….Just go through and BE SURE that you have all you desire from this catalog now though so you don't miss a beat with us! http://AboveRubies.CTMH.com
Also LAST chance to get THIS AWESOME alphabet stamp set for only $5.00 with qualified order!  ROCKS!!!