Happy Tuesday my Friends!
This tutorial is a long one but its packed full of tons of ideas! It starts off with me showing how awesome Printed Square1 Adhesive Fabric is. Square1Masterpiece.com will actually print your family photos or art designs of any kind with their professional printing service right onto Square1 Adhesive Fabric. This means you get the highest quality prints right on a material that you can stick directly to any surface! Whether it be frames, walls, brick, stucco, wood etc, you can be sure this will stick and cleanly remove without a sticky residue or any mess and you can restick it later as well!
We are going to take Square1 to the next level though and use Martha Stewart Crafters Clay to create light weight and custom frames in the exact colors that we want to match our project. This clay is so super fun to work with and though it's a clay it feels lighter than paper, it is amazing and I've done several other videos with this like making your own rose or creating tags for the holidays. I am not a clay artist at all, but this is so easy literally anyone can have a ton of fun creating with this!
After I made the clay frames, I'm going to use some Tim Holtz distress inks and we are going to blend and ink up a kraft tag and see how easy it is to distress, stain and blend colors. We are also going to use the inks right on Color Me Crazy flower by Petaloo. This is just another great way to get absolutely the perfect match custom colors to any project you are working on by adding layers of colors and dimensions. Megan Elizabeth Ink Edgers also work REALLY well for these techniques because they are super juicy pigment inks that blend so well together, my ink line just tends to be a bit more bright than grudgey.
Final touches always seems to come down to Viva Decor Pearl Pens for me – there are so many colors available BUT, Bronze is almost a staple MUST have! (I own almost every color, but if I was going to recommend 5, in order I suggest, Ice White (OR Cream but I like Ice White better), Sunny Yellow, Light Blue, Magenta, Bronze and/or Chrome Silver.
Alternates you can add are Keys or Feathers – things that are light weight you can add a little more to it like we did on our final Family Tree see at end of video.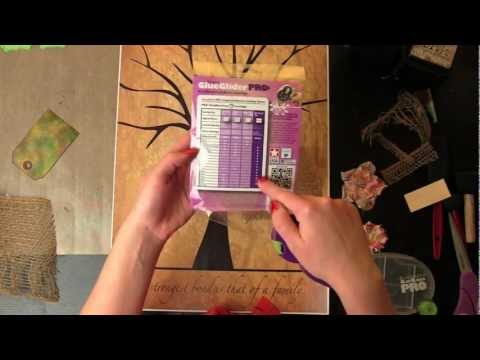 Here is the Original photo I had printed – thanks to Karlee we can all and share this! So make sure you leave her your thanks in the comments especially if you think it's as pretty as I do! (You never know what else we can get her to create!)