Happy Tuesday!
Today is a super exciting day – as I write this I'm sitting in my parents living room and prepping for a big day tomorrow! I can't share all the details – but it has to do with Television and praying for dreams to come true!  I can't wait to see what happens to to share more about this when I can!
It's been a really rough week – on Thursday some of you may know from Facebook – I slammed my right middle finger in the van door and the door latched close. I dislocated the knuckle and severed a nerve in the finger – it's so bruised and swollen and awful and I'm just hoping it doesn't affect things negatively tomorrow because it still looks really bad and is still causes a lot of pain. I'm thankful for all the well wishes from so many of you!
I'm doing all I need to with ice, pain meds, elevation etc….It's gotten better – but WOWSER! It's been a week of weeks!
This tutorial thankfully was filmed BEFORE this happened.  So, I have a Tuesday Tutorial for you today that I uber love!
I used the Basic Foundations pack from Three Birds the HSN exclusive  – I LOVE this! I used the Orange chevron pattern in last weeks Tuesday Tutorial card and now this week I'm using several other sheets to create this bright and easy to recreate scrapbook layout. The fun part of this layout is creating the "hidden" journal tags and messages in the page. Ways to still tell your story with the photos, but not have it out there for everyone to read.  I gave a bad sounding example in the video I created, but I think you'll get the picture of what I mean!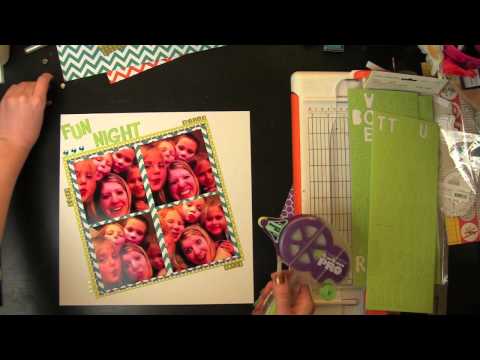 I hope to see some of you inspired enough to recreate this for yourself! Tag me in Pinterest, Facebook or Twitter if you do recreate it I would love to see it! 🙂
Enjoy the Moments!