Heylo!
I know you all are excited to see creation videos, and its been awhile – I've been SO SUPER busy creating for Club Ruby Designers, and traveling and other projects behind the scenes right now that I just haven't been able to post the NORMAL project videos, BUT I'm excited to say, I have LOTS of videos from the CHA show and I also have a project using Paper Layerz that was JUST posted in the Scrapbooking.com Magazine! They even did a little video too!  Check it out HERE!
Project videos are going to be FLOWING soon – you'll all be beggin me to stop! 😉
Here is some CHA fun!  In this video you'll see:
CHA Sneak Peak of Product Innovations with Megan talking about Paper Layerz
Say Hello to Tim Holtz as he demos his new Picket Fence Distress Stain (Another Product Innovation for CHA 2010)
We R Memory Keepers Sew Stamper – is SO Awesome!
Walking Around the CHA Show Floor
and Lots more coming all week long! So just keep checking back here 🙂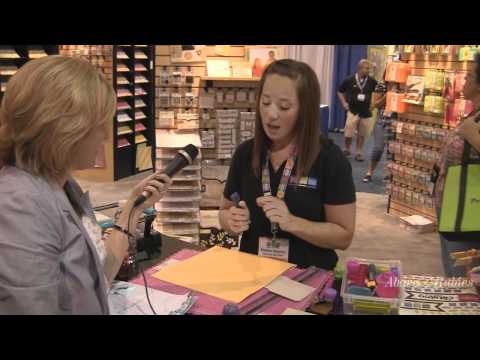 Hope you have a GREAT day!  I know I talked kinda fast in some of this video just trying to get everything in, Hope that you'll just have fun along the journey as I just was trying to bring you all along! 😉  HAVE A FABULOUS Day!