So I'm going to share some more fun we had out at CHA – I was having camera issues left and right and then forgot to take it with me the one day – SO – my friends that were with me are going to share more photos later – I've put together a quick little video though of clips I took with my phone camera – you can see that here for today 🙂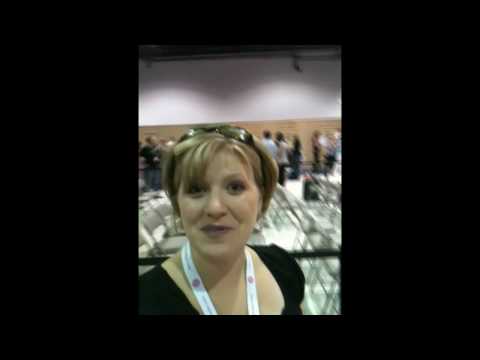 Let me talk a little bit about what we saw out there….
Fabulous lines of paper that I can not WAIT to share in Club Ruby!  Which BTW have you put your email address in for yet?? Do so HERE! We searched the shows to be able to bring you the hottest and greatest in paper lines and paper crafting supplies in the new Club Ruby and I think we did a FANTASTIC job….exhausting – but EXCITING!!! 🙂
The new Provo Craft Cricut Imagine!  I can't WAIT until September when it reaches HSN on the 14th!  This is going to be so fun!  The machine is amazing, and while it is pricey I agree – you are getting SO much from it – soooo – something to keep in mind.  I did receive a certificate to get one of the machines when they start shipping in September – and I will be sharing with you much about it.  I'm sorry the video I have isn't the GREATEST ever, but I do know the other girls got some GREAT shots! 🙂
The Provo Craft Gala was so much fun and I really enjoyed the Artist they had perform!  So great! 🙂
I have REALLY exciting news coming about new DVDS that are coming out from Above Rubies Studio that I am just THRILLED about….one of the newest DVDs is coming out VERY soon and Club Ruby members will get first exclusive looks at it! YAY!
We have two other dvds in the works and while out at CHA have made plans with two major companies to create fantastic how to dvds on using their products and creating fantastic projects for GREAT inspiration…but I don't want to spoil TOOOO much!!! 🙂
Another surprise I am THRILLED to give you a tidbit on is SO exciting for Club Ruby members!!!  We have something in the works with a partnering company that is going to be giving Above Rubies Studio and Club Ruby Designers exclusive totally FOR YOU products!  So be on the look out for surveys to come so that we can get to you EXACTLY what you want!  Can you believe it!!!?!?!?  You won't be able to get these fantastic products ANYWHERE but through being a Club Ruby Member!!!! 🙂 You're just DYING to know EXACTLY what it is aren't you!?!??!  Well I'll tell you this much….
You're GONNA LOVE IT!!!!!!!!!!!!!!!!!!!!!!! 🙂
Great times happened out in Chicago for sure though!  We greatly enjoyed fun times with dear friends, we ate a ton of wonderful food, we talked with a LOT of people!  I don't really know what to share as far as new products go…other than design stuff – and the Cricut Imagine….I wasn't blown away by anything new that I haven't already seen before.
Although I will say to you – I am VERY happy to see that Craftwell redesigned the eCraft and REALLY listened to the people!  🙂 I'm very excited to get my hands on that machine in the future as well because I think that should be fantastically interesting to play with! 😉
Ok thats all for now – I know I'm only giving little bits of stuff at a time right now – and I just ask you to PLEASE be patient with me!  My inbox is JAMMED with over 600 emails in it – I'm going through getting things caught up and done – and lots more to do!  SOooo – again I beg your patience and thanks for your kindness!
AND it was GREAT meeting each and everyone of you who were at CHA!  And THANK YOU for those who understood my headache issue on Friday and didn't hold that bad mood against me!!! 🙂 HUGS!