Hey Everyone!  SO tonight is a special night of Live chatting with ME on a Ustream!  You can watch right HERE at AboveRubiesStudio.com OR watch at www.Ustream.tv/channel/AboveRubies
Its going to be Tuesday January 10th, 2012 9:30pm EST so I can't wait to see you tonight for fun chatting, giveaways and news!
Now I filmed this Tutorial Last Monday to share with you while I was on my own little overnight scrapbook weekend – however I didn't get a chance to edit it for you all sooner because of all the craziness happening around here – but we can talk about that tonight!
I have been a HUGE fan of Smash Books by K&Company since I first saw them in July – I have made my OWN form of Smash Books (Which you can see here) but now – I'm thrilled to share the full package of what has been created by K&Co (How I've always loved them!)
Thanks to my friend Ildi (thecraftinmama) who bought me my first Smash book and accessories and then I received a few others as Christmas gifts as well! YAY!! 🙂 Sooo happy and ready to use them ALL!
I've see the questions before: How do you use a smash book? Let me start by saying- there REALLY is NO right way at all! and the BIGGEST thing I will tell you is HAVE FUN and USE IT!  There are NO rules – just FILL it with things that make YOU feel good!  Take a look and see what I mean: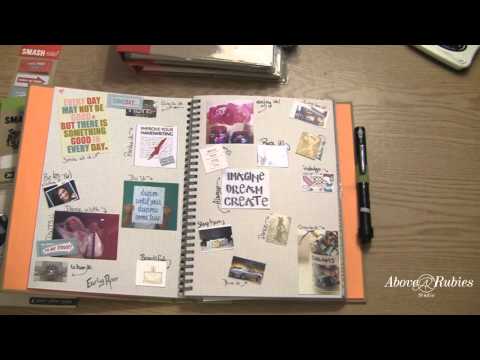 OK – I will see you TONIGHT!  9:30pm EST! Love to you all and remember – more than ANYTHING… ENJOY THE  MOMENTS!! 🙂