**Video Link Fixed! So Sorry!**
HELLO!
SO happy YOU could check in and join me today! Means so much that you take your time to browse AboveRubiesStudio.com and peek into what I'm up to and hopefully feel inspired or encouraged by what you see here!
I have a REALLY long video to share with you! I think personally it has LOTS of goodies in it but its in two parts first is all about my Scrapbooking and Crafting Room.  Everyone has a various size space to organize their craft supplies in. So I try to get creative and be as CHEAP as possible when it comes to scrapbook organization.  I like to have my supplies easy to see and get to, because if I can't see them or reach them, I don't use them enough and I have a LOT!  Also with my "move" I have a very small craft space now compared to what I had. But Its a larger craft space than what i started with. I try to give tips and tricks for all!  Second half of this video is about my new Scrapbook Supplies Haul from www.Craft-e-Corner.com  MOST of the supplies I purchased, but as a disclaimer they did sponsor and donate SOME supplies to me to share with you guys in upcoming videos that they are sponsoring.  MORE On that LATER!  Bottom line – my GOAL is to add 100 NEW Videos PLUS my weekly Tuesday Tutorials over the next 4-6 months.  Its PRETTY awesome the plans we have! 🙂
Without Further Ado – Here is My Craft and Scrapbook Room with My Scrapbook Supplies Haul Video!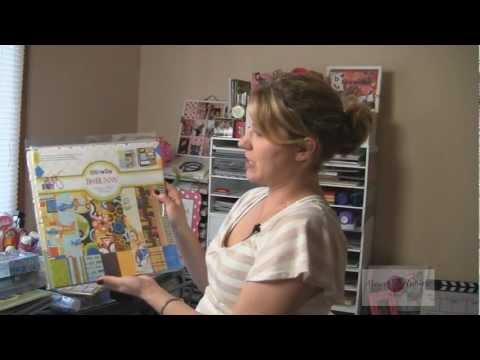 MAKE SOMEONES DAY WINNERS!
Let's post our 8 winners from Make Someones Day Events!  IF you see your Name listed PLEASE use the email address you commented with and CLAIM YOUR PRIZE by using THIS FORM HERE! 🙂 You will have 14 days to claim your prize!  Thanks everyone! and CONGRATS!  I KNOW I'll be doing MORE Make Someones Days Later!  I am picking a variety of things to giveaway to EACH winner! 🙂  I'll let you know that the way the winners were picked was using random.org and then I picked an ADDITIONAL 3 people that I just DECIDED to do it anyway….it was NOT about playing any kid of favorites – but I wanted to post those three people first.
1. Hannah – is 11 years old and she is AWESOME!  She sent me an email awhile back and I am JUST finally getting settled in to SEND her what I promised!  I'm sending this sweet and TALENTED young lady some scrappin' Goodies including a Glue Glider and Paper Layerz.  Hannah I'm so sorry it's so late – but THANK YOU for sending me your photos!! Everyone can see somethings Hannah made right her! 🙂 Hannah you do GREAT work and have inspired ME I know you're going to inspire all these friends here at Above Rubies! Thanks AGAIN!
2. Scrappin' Navy Wife – She's been a support to me and has sent goodies in the past I wanted to do something to make HER day by Sending her some LUSH Bubble Bath!  Nikki – it is on its way RIGHT now! 🙂 Hope You enjoy relaxing as much as I do in it!
3. Allison C – She is a facebook follower and someone who I've come to pray for a LOT!  She deserves SO much and all I can do is pray – but today I want to send her a Smash Book to help her journal her journey and hopefully add happy stories to and blessed events very soon! Hugs Allison!
(The Next 5 winners are selected by RANDOM.ORG even though I WISH after reading sooo MANY comments you ALL deserve something more!)
4. reddbudd is the winner of a pair of earrings I MADE!  Reddbudd was selected at random But I thought I'd custom pick what each random winner gets!  Since you paid your friend forward with a new pair of bling – how about I make some blingage for your ears as well!  Here is what reddbudd said:
Today i will call my brother and thank him for advice he recently gave me, and let him know how things worked out. I will also finish two cards to give to my bossess at work to let them know they are appreciated. I will also give my friend a pair of earrings that she has admired. She will wear and enjoy them far more than i will.
5. Linda W is my next winner! Since Linda is thinking of ways to use Bottle Caps, I'm going to send Linda some useful tools and embellishments to help her use these up and hopefully in a creatively fun way! Here is what Linda W said:
Just watching your videos puts a smile on my face. Several months ago, I ordered a pack of 100 bottle caps and smoosh them all in my cuttlebug. I had use some for various projects, but I still have bunch left. Now that this video reminded me that I them, I'm going to think of ways to use them again.
6. Nicole H. is our next random winner and she is feeling a bit inclined to wear more makeup so I thought I should help by supplying her with my FAVORITE lip Gloss of All time – BUXOM Lip Gloss!  Here is what Nicole said:
Hi Megan,
I had so much fun watching your make-up tips, thank you! I feel I learned some valuable tips & hints and may be more inclined to wear make-up more often.
Thank you for all that you give of yourself! Congrats to Saturday's winner also!
Hugs, Nicole
7. Sue – I LOVE this from Sue!  She is our next random winner!  And this is so cool!  I thought Sue could use a little Mini Memory Book that she could either send home with her granddaughter OR keep for herself to remember this Easter Weekend with!  How sweet is this!
I really don't publish things like this cause I don't want people saying I was bragging or something. My Grandaughter lives about 800 miles away from us. She's been wanting to come home for quite awhile but just couldn't afford it.I have felt so bad for her so my husband and I sent her $800.00 so she could rent a truck and come home. Now I can't wait to see her. She will be home next Saturday, April 7th. Thank you so much Megan for the things you do.
8. Vicki Word Snowden Is my final RANDOM
winner for this Make Someone's Day Post.  HOWEVER – I have a feeling we will be doing this much more often!  I'm going to be giving Vicki one of the Megan Elizabeth KITS!!!  I know she's going to enjoy THESE new goodies and maybe even share these with her friends as well!

Vicki Word Snowden To be able to Make Someone's Day after so many others have made my last two days so awesome makes me really stop and think! However, as I reorganize and clean up my crafting supplies and storage items, I've discovered several that I know some of my new-to-crafting (and I did inspire them to give it a try) friends will love using so I'm sharing them with others and love the genuine thanks that I receive. If they can spend more for their families, both in fun and time, because I'm helping them organize, I love being able to do it.
Thanks SOOO much everyone!  I can't even tell ou of all the comments received in total – EACH and every comment and SMILE you all are bring is a breath taking, tear welling, WOW!  You ALL ROCK!  I can't wait to do this again!!!
So much HUGS and LOVE!
ENJOY THE MOMENTS!