Welcome!  More than half way through already!  Are we having fun together yet?!?! 😉   I know I am, so very thank you're here and we can share projects, inspiration and heart with telling our stories through creativity!!
Today I wanted to do another personal name project that you can make for the family or gift or even a gift tag or place setting for the holidays!
I created a total of four circle chalk board ornaments today but showing you ways to make two and blend colors and write names directly onto them.  Feathers on Christmas ornaments are also meant to represent those not here with us any longer as well, so using Feathers at Christmas is a wonderful way to keep a memory of those you love with you too.
Today's Video: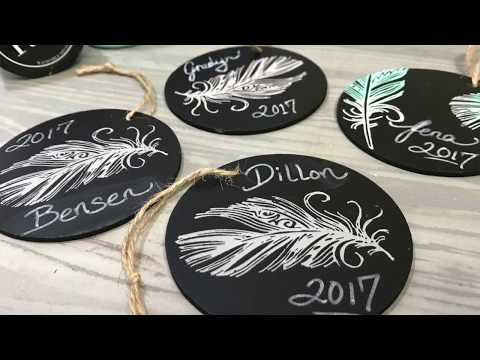 Today's Shopping Feature Deal:
Join Stepping Stones Exclusive Facebook Group for a Free Chalk Paste Offer!
ENTER TODAY'S GIVEAWAYS!
All you need to do is COMMENT & SHARE to enter to win with ALL official Entries and Bonuses collected through Rafflecopter! 1 Giveaway & winner for each day – winners selected December 10th – US Residents ONLY!