Hey All –
I know it is CRAZY late in the day – but I got VERY busy painting the new Studio Set that I haven't had a chance to create, edit and post!  I'm SOO excited about this Tiffany's Box colored studio room and I'm very anxious to share pics and new videos with you from the set up we have!  I love that we have different video options – AND I want you all to know – "Backstage Subscribers" to Above Rubies Studio are actually going to be getting some VERY special behind the scenes videos of everything going on here VERY soon!  So if you aren't already signed up, make sure you become a subscriber TODAY so that you can check out some of the fun and how tos BEHIND the camera!
SO – anyway while this is a QUICK handmade card – it was VERY PINK inspired!  I couldn't help but use pink everything, and of course add a little brown accent.
Used a little:
Mellon Mambo Stampin' Up Cardstock
Glitz Distressing Clear Background Stamps
Pink Fiber
Pink Satin and Tulle Ribbon
I'm Just Sayin' Stamp from Above Rubies Studio (Releasing with 123 Cards DVD coming SOON!)
Letter stickers from Making Memories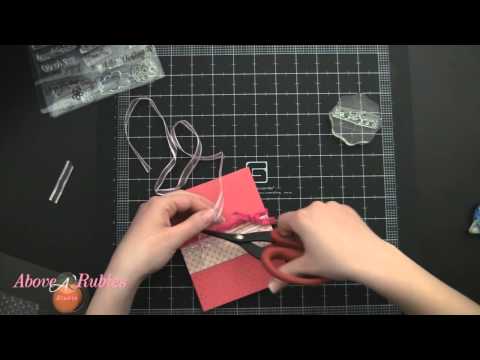 Have a GREAT day!
FOLLOW US ON FACEBOOK – Become a Facebook Fan TODAY and you'll be up to date on ALL kinds of ARS Behind the scenes status's, contests, giveaways and more!  "LIKE" us HERE right now!