Hey Everyone!  Happy Tuesday!
Hope you're doing FABULOUS!  I'm in a pretty good mood (tonight Monday) right now with all that is happening and going on!  I just had an amazing call with two great women, Britten and Cindy from the Club Ruby Designers DT.  We were having a great time talking about the amazingly overwhelming response to our Club Ruby Design Team Call.  We are also talking about all the upcoming projects at Above Rubies Studio including our newest DVD project that will be available at Club Ruby Designers THIS Summer!  (It's ALL About Cricut Cards!!!! You're going to LOVE IT!)
This Tuesday Tutorial I am going to create a card using the Sketch that Britten and Cindy created for the CRD Challenge.  I used a BRAND New Tool that I am "SEW" very excited about!   I purchased a Singer Hand held sewing machine from Walmart.com it was ONLY $16.00!   It DOES get "caught" in heavy cardstock a little bit, and its not an easy even steady stitch, BUT its REALLY cute and I'm VERY excited about using this in my tool box on a regular basis!
I also use:
We R Memory Keepers Corner Chomper
Paper from Echo Park The Good Life Collection
Hero Arts Stamps
Fluid Chalk Ink
EK Success Powder Applicator Tool – REALLY awesome for when you want a sticker to be 3D (Learn how to do this without the tool in the video as well)Hope you all enjoy!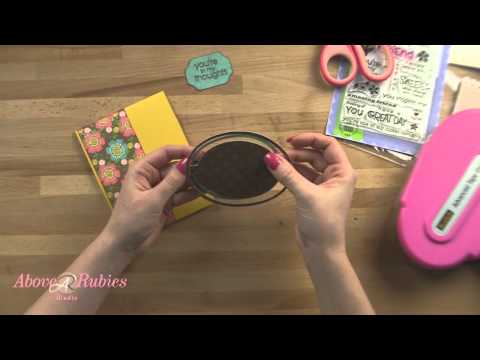 LIVE USTREAM ANNOUNCEMENT to Name Winner of the Cricut Imagine Machine!
I wanted to mention we ARE going to have a
LIVE Ustream on Monday Night, April 18, 2011 9:30pm EST.
We will name the winner of the Cricut Imagine Machine that we held a giveaway contest period for.  We had over 7,000 entries!  WOAH!  Can't wait to see who won LIVE! 🙂
I will also be announcing a few other goodies from Above Rubies Studio and Club Ruby Designers.  I have some special shout outs to viewers and we will talk about who's joining our Club Ruby Design Team!
See you all LIVE then! 😉