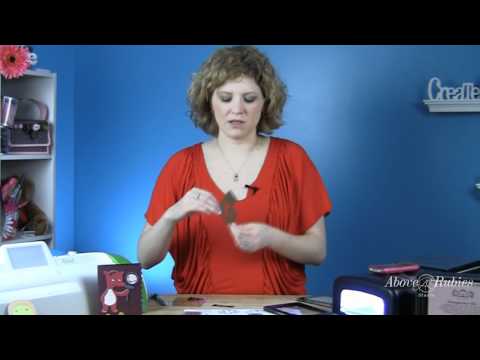 Hey Everyone!
So as promised, here is this week's Tuesday Tutorial! The format this week is a little different than usual, but I think you will like it 🙂
In the video, I cover how to use the Teresa Collins Stamp Maker from Photocentric in-depth and also review the Cricut Expression 2!
Here is a scan of the paper I stamped on in the video
As you can see – once I cleaned up the THANK YOU stamp a little more in hot water in my sink, it came out BEAUTIFULLY!  So it wasn't too over processed afterall – just was hard to show in this video.   Results on the bottom right corner! 🙂
Links for Other Stamp Maker Resources:
The Models of the two Printers I mentioned are:
HPD1000 – $29.00 at Walmart.com
Kodak 3250 All-In-One if you want to scan in art work and create this is a great option for you!  – Around $60 at Walmart.com AND the Ink for this printer is MUCH Cheaper than the HP Refills (Around 9.00 for Cartridges)
Remember, Above Rubies Studio Facebook fans can WIN the Teressa Collins Stamp Maker by answering the "Giveaway ALERT" question that will be posted sometime this week! It will only be on facebook, so you will need to make sure you "like" our page in order to see the alerts.
If you already like our page, you won't see the like button… so if it's not there and you can comment on the Above Rubies Studio facebook page, you just need to keep an eye out for Giveaway ALERTS from Above Rubies Studio!
Lots of FUN things happening!
Who here has the Cricut Expression 2? What do you think of it? Please share your own "mini-review" with all of us in the comments… and be honest!