Hey Everyone!
Happy Tuesday!  I hope you all are doing awesome!  Last weeks card on using Rub ons on the card – quickly inspired the using Stickers on your cards to make VERY quick cards.  I don't think under 5 minutes is any quicker and cuter for a card to say hello, congratulations, thinking of you, or anything else!  I really like using Viva Decor Pens for that 3D or "heat embossed" look for the Stitching.  Viva Decor Pens can also be used with stencils to give a really beautiful heat embossed raised look too.
Anyway, Enjoy this short video and Card for some more basically simple inspiration!!! 🙂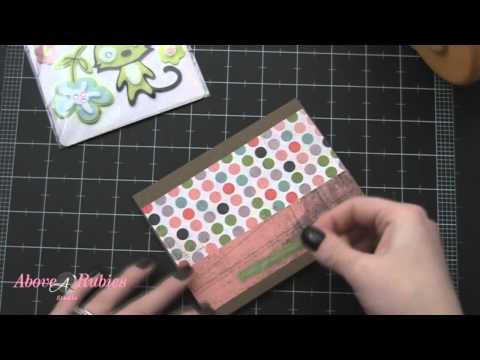 Changes at Club Ruby Designers and NEW KITS NOW AVAILABLE!
Club Ruby Designers IS reopening and we have made some GREAT Changes!  Like becoming a Club Ruby Advantage Member for ONLY $7.00 a month and Getting your OWN FREE Profile to share your creations with the world!  CHECK IT OUT! 🙂 New exclusive Kits available NOW for April to Members too!  So cute!  Check it out HERE! 🙂
Club Ruby Design Team Open Call
That is RIGHT!  In case you haven't heard, Club Ruby has reopened and IS ASKING FOR YOUR TALENT!!!
We are refreshing and Adding to our INCREDIBLY talented Design Team and would LOVE to have you apply!!! Interested?  YAY!  I can't wait to see your work!!!  Here is what you need to do!
Club Ruby Designers Post:
Running now thru April 11 – we are adding to our fabulous Design Team at Club Ruby….AND WE WANT YOU!
Being a Club Ruby Design Team member means that you:
-Are the first to get the Club Ruby kit every month.  You get to see all the scrap goodness before everyone else!
-Get a chance to showcase your creativity in Club Ruby's fast-growing and talented community of papercrafters.
-Provide input and feedback on upcoming Club Ruby projects, Challenges, etc.  All ideas are welcome and appreciated.  Be heard!
As a Club Ruby Design Team member you will:
-Use the Club Ruby kit sent to you (for free!) on a monthly basis to complete and upload to Club Ruby Designers 4-5 projects with clear pictures & tutorials.
-Complete all challenges posted by Cindy and Britten – an average of two per month.
– Journal, comment, post in the forum and actively participate overall in the growing Club Ruby Community.
– Provide input, feedback and designs on an "as needed" basis for Megan and Club Ruby  (for example: projects/ideas needed for Challenges, upcoming DVD's, etc)
Here's what you need to be considered for a position on the Club Ruby Design Team:
– All applicants must be a member of Club Ruby.   Free members and new members are welcome.  Just make sure you have completed a full profile on Club Ruby Designers before submitting your DT application.
– Applicants must submit 3 original projects not previously published or posted anywhere (Club Ruby, a message board, blog, online magazine, or in print, etc). We want to see your super fresh ideas!
One project should be a card, one should be a layout with pictures and one is a papercraft of your choice (a second layout, 3-D project, home décor item, etc) using the theme "All About Me".
Use the "All About Me" project to, well, tell us all about YOU!   We want to get to know you – the scrappy parts and the not-so-scrappy parts!
Complete a tutorial with pictures and step-by-step, written instructions for any ONE of the above projects.
Design Team Applications with all of the completed requirements must be received via email by Monday, April 11 at NOON est to: dt@aboverubiesstudio.com.  Please send only DT applications to this email.  Any questions regarding any of the above should be directed to:
britten@aboverubiesstudio.com and/or cindy@aboverubiesstudio.com
We can't wait to see what you've got Club Ruby-ers!!!
Now…go scrap something!
Megan, Britten and Cindy
Club Ruby Designers